In my search for forgotten ingredients I have tried my damnedest to be thrifty and imaginative. But for some reason I always return to the head. It must be that delicious unctuous meat and variety of textures that you can't find from any other cut. It is the most readily available offal with the least value, so my search for cranial recipes continues. We've taken turbot's cheeks to make croquettes, sheep's brains to deep fry and serve with saffron aioli, and cured pig's cheeks to make a type of pancetta which I serve in a robust Spanish style stew with smoked paprika.
I have already written the article on Moroccan spiced sheep head ,so i really don't want to bore you with more recipes that involve decapitation. However, this recipe is massively intriguing and frugally genius, so I just had to include it in my Forgotten Feast collection of recipes.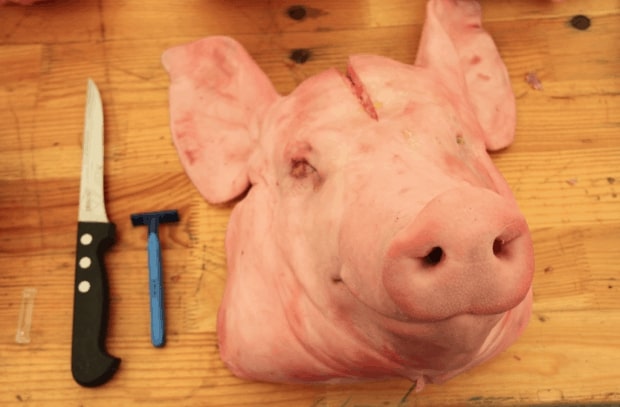 Waste not: A pig's head would normally be rendered into fat and by-products, by eating this meat you are preventing food waste. Don't worry if you leave some meat on the head. Roast it and use it for stock.
This is a very involved recipe so I've included some shortcuts to make it easier. Use organic meat for this recipe. The quality of meat is very important, especially with offal. You should be able to buy a whole pig's head for £5-6, so it's great value for money.

Ingredients and equipment - Makes enough for 30 portions

1 organic pig's head
Small bunch rosemary, picked and roughly chopped
6 cloves garlic, roughly chopped
2 tbsp fennel seeds
Shaver
Butchers string
Method
First clean the head. Scrub it thoroughly with water and a brush, especially around its eyes and mouth and inside its ears, making sure you remove all wax.
Shave all the hair from the head. Check that the head is free from any hairs at all when you finish. You might find they stick to the cut flesh.
Debone, starting from underneath the chin. Follow the bone structure, carefully cutting around the eyes. Check out this film of Chris Cosentino making the porchetta for tips on how to debone the head.
Rub the head with your garlic and rosemary and season well with salt and pepper.
Now roll the pigs head and tie into place with butchers string. If you are new to this, maybe ask your butcher to show you next time you are buying meat.
When the meat is rolled you have three options to finish the cooking process:
1) Buy a sous vide machine, all the rage in the modern kitchen. Vacuum pack the meat yourself. Heat in a sous vide bath at 85˚C for 10-12 hours. Plunge into cold water. Slice thinly using your best knife.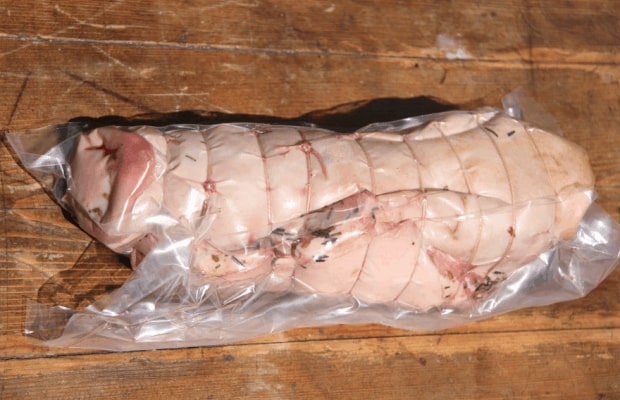 2) Which I chose. Ask a butcher to vacuum pack the meat for you. He charged me .50p for the bag and that was it. I wrapped the joint in extra cling film to make sure the bag didn't split. Find a suitable sized pot, cover with water and bring up to 85˚C. Using a thermometer ensure the water stays between 85-90˚C for 10-12 hours. Plunge into cold water. Slice thinly using your best knife.
3) Simply braise the joint in the oven for 8 hours overnight with 1/2 a glass of wine, 1/2 a glass of water and some stock vegetables. Tightly sealed with foil. Rest for 15 minutes and serve warm.
The dish goes well with pickled gherkins and mustard. Delicious in sandwiches hot or cold.