My poly-tunnel and veg patch are now bulging with glorious summer vegetables: bell peppers, aubergines, broad beans, new season beetroot, onions, and garlic. The courgettes are also in abundance, their vines stretching across the veg patch adorned with remarkable, brilliant yellow flowers, ready for stuffing with soft cheese and anchovies.
July is a month of summer celebration and festivals. The big one, Glastonbury Festival, has been and gone but many a revellers' hangover is still present. My café Poco tours the British music festivals. This year we are heading to Camp Bestival, Wilderness, Green Man and Shambala with our huge barbecue, grilling mackerel (next month's sustainable pick) and merguez sausages for the masses.
My newest discovery for the barbecue, which I've written about in my new book The Natural Cook, is a rather adventurous barbecued whole brown crab. The crab is placed directly on the coals to char and steam in its shell. Being in such close contact with the source of heat and without contact with water, the crab meat becomes rich and intense with a wonderful smoky flavour. I recently filmed the recipe at River Cottage in Dorset for Jamie Oliver's Food Tube: check out the video here .
Cooking seafood over charcoal will always be my favourite pastime, but there's plenty more ways to eat your choice of fresh fish and crustacean. Ceviche is another favourite of mine, perfect for scorching hot summer days: check out my drunken prawn ceviche recipe in May's blog. This month I recommend substituting the prawns with sea bass, either wild or farmed. Now in season, it has a brilliantly firm white flesh and is somewhat of a delicacy. It takes well to this magical Peruvian treatment, but be careful not to mask its subtle flavour with too much chilli. Choose mild red chillies like a jalapeno or aji amarillo.
Sea bass is costly, so get the most bang for your buck and use the carcass to make a wonderfully flavoured, clear stock. Pop it in the freezer until you've got a free 30 minutes to simmer the stock in a pot with some collected veg trimmings.
Dab is also good this month. A small flat fish, dab is one of the most abundant fish in the sea according to recent studies by the Marine Conservation Society. A whole dab makes a good portion for one. Pre-heat the oven to 200°C, drizzle with olive oil and sprinkle with a little salt. Roast for 10 minutes, then serve with a wedge of lemon.
Towards the end of the month we'll also see British apricots in our markets and glowing orange on our greengrocer's shelves. British apricots can be hard to come by and their season is short, lasting only until September. They are worth seeking out; as British apricots are picked relatively locally they're riper, allowing the flesh to stay firm but sweet. Try tearing them into salads with bitter leaves, dressed with lemon and served with grilled sardines.
Today I'm cooking a monster of the deep, spider crab, which is similar to brown crab but with long spider-like legs and a spiny carapace. Spider crab contains less meat than brown crab, but it is much sweeter. Most spider crabs caught in the UK are shipped to Spain. This seems a shame to me when we have this lovely food on our doorstep. They're delicious boiled and served as they are, or drizzled with extra virgin olive oil and nada mas, as they are in Spain. They're also a real favourite with the locals in Latin America, where I used to work in an Argentinian grill: we'd serve the biggest spider crabs boiled and cracked to our customers on the beach.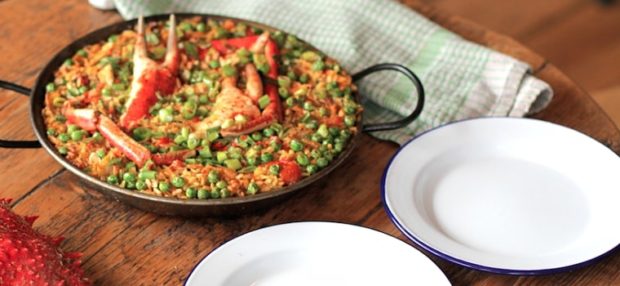 Spider crab and pea paella
This is a great summer recipe: such a lovely dish to share with friends. Use a paella pan if you can, otherwise a large, deep frying pan will do the trick. The brown crab meat gives the most amazing rich creamy texture. This recipe is a simplified adaptation of Alberto Herráiz's recipe in his amazing book, Paella.